Present Day
The Jonesville Community, about 215 acres, is informally sectioned by the various families that maintain their homes here. In the north, on both the east and west side of Jonesville Road, you'll find the Jeffrey's family. They mainly reside on Lawn Artist Drive, Running Deer Drive, Malor Drive, and Upchurch Lane.
Immediately to the south, on both the east and west side of Jonesville Road are the Jones family descendants. Straddling Family Field, the Jones Families reside mainly on Cousins Lane, Lizzie Creek Court, and C and L Avenue.

The southern section of the community has a diversity of related families; the Perry's mostly on the west then Lee, Pullen, Dunn, and Hartsfield on the east side Jonesville Road.

Once home to a small pool hall, general store, saw mill, and dry cleaners all commercial entities had to close due to financial hardships. We hope to bring a commercial element back to the community as we pursue the installation of public utilities in the area.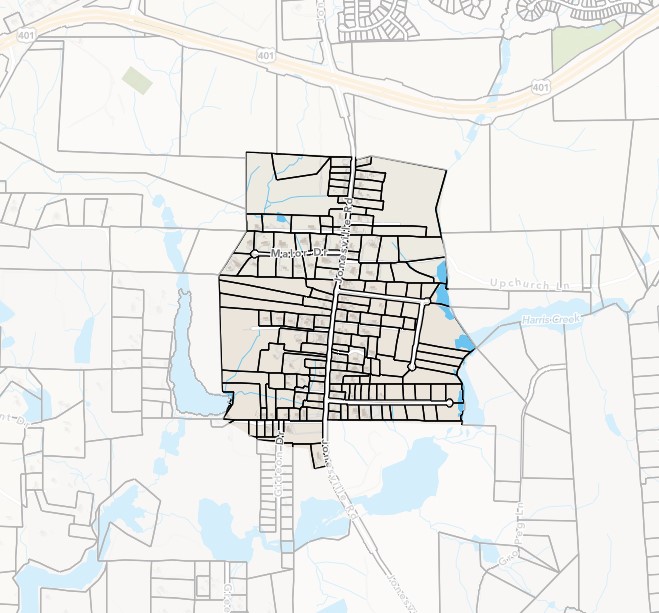 The National Historic Registry has identified the Jonesville Community (WA8167) for its mid-20th century 1 story side gable brick ranches but its current status is "undesignated". Meanwhile, in downtown Rolesville, the Perry Subdivision (WA7655) is on the study list for the same 1 story ranch home architecture.
---
1) https://nc.maps.arcgis.com/apps/webappviewer/index.html?id=79ea671ebdcc45639f0860257d5f5ed7
2) https://digital.ncdcr.gov/